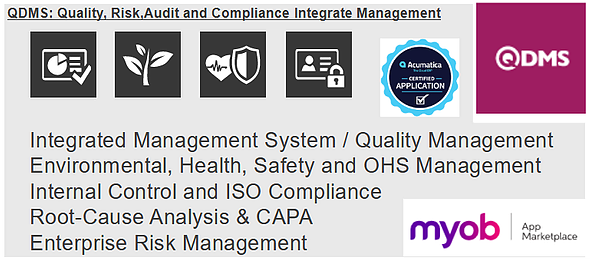 Product Description
QDMS is an integrated management software that has been in the market since 1998. QDMS has 1000+ corporate clients and 1 Million+ professional software users.
Some analysts call what QDMS does quality management, or compliance management.
We prefer referring to QDMS as an integrated management software, because QDMS is ready for professional management at any company that targets all the departments of any company in addition to quality department.
QDMS helps companies manage their quality management system and comply with quality management , compliance management and regulatory requirements nationally and internationally.
It is time for advanced quality management digitally. It is time for proactive compliance management towards continuous improvement. It is time for QDMS!
You can comply with ISO 9001, ISO 14001, ISO 13485, AS9100, IATF 16949, SQF, BRC, BRC iop, ISO 22000, OHSAS FDA, EMC, MDSAP, SOR, ITAR, AISC, OSHA and many other quality and regulatory standards digitally on QDMS.
BENEFITS of QDMS:
Take control of your business management operations in a paperless and
digital work environment,
Comply with quality management standards paperless, digitally,
Comply with regulatory standards paperless, digitally,
Be ready for getting audited anytime,
Have continuous improvement at your company.
Have a Vertical-Free integrated management software for any industry,
QDMS supports corporate governance and increases efficiency,
QDMS helps companies adapt changing times in the face of COVID-19 for
remote work, setting performance criteria and performance management.
FEATURES of QDMS:
Web-Based with the latest technology; Access QDMS from Anywhere

Smooth integration with any modern ERP system,
Easy-To Use, User-Friendly interface,
Permission-Based with digital audit-trails,
Notification, reminders and escalations for continuous improvement,
Modular structure for complete customer satisfaction.
MAJOR MODULES of QDMS:
Controlled document management module,

Internal customer complaint module,

External customer complaint module,

Corrective action module (CAPA),

Non-conformity management module,

Root-Cause analysis module,

Action management module,

Management review module,

Audit management module,

Training module,

Calibration module,

Incident management module,

Survey management module,

Suggestion management module,

Process risk management module,

Project risk management module,

Aviation risk management module,

Environment risk management module,

IT asset management module,

Change management module,

Deviation management module,

Lessons learned management module,

FMEA,

MSDS,

PPE management module,

Product life-cycle management module,

Quality control and more.
INDUSTRIES FOR QDMS:
QDMS is vertical free. You can enjoy the benefits of QDMS in any industry as follows:
Aerospace & Defense,

Aviation,

Automotive,

Banking, Financial Services & Insurance,

Cannabis,

Chemical,

Construction,

Distribution, eCommerce & Wholesale,

Energy, Oil & Gas,

Food & Beverage,

Healthcare,

Hospitals & Clinics,

Hospitality & Tourism,

Import/Export,

Life Sciences,

Logistics,

Manufacturing,

Marine,

Medical Device,

Mining & Metallurgy,

Not-For-Profit,

Packaging,

Pharma,

Professional Services,

Public sector & Public Asset Management,

Retail,

Technology,

Transportation and many more.
INTEGRATIONS and INTEGRATION CAPABILITIES :
QDMS has the latest technology and it can integrate with many different modern software systems. It has already been integrated with:
SAP Hana ERP,

SAP ECC ERP,

SAP Fiori ERP,

SAP One ERP,

Microsoft Dynamics F&O (AX) ERP,

Microsoft Dynamics Business Central (Navision) ERP,

Sage Intacct ERP,

Sage X3 ERP,

Sage 300 ERP,

Acumatica ERP,

Cyma,

Kofax RPA,

ABBYY,

Odoo ERP,

And many more
For Business Process
Call Us at+91-120-4567200 or click below to get a quote
Looking for a Job?
We seeking a motivated and passionate person to join us